Explore the Exciting Changes at the NEW Timber Hill Winery Location
Timber Hill Winery has always been a beloved destination for wine enthusiasts, and now, we're thrilled to introduce you to our brand-new location in Milton, Wisconsin. While our beautiful new building is a standout feature, we've made several other exciting changes that we want you to know about. Read on to learn everything you need to know about the new Timber Hill Winery.
Everything You Need to Know About the New Timber Hill Winery
New Address and Contact Information
We understand the importance of making it easy for our visitors to locate us. Our new address is 8220 N. John Paul Rd. in Milton, Wisconsin, and you can reach us at 608-580-0305. We want you to know where to find us and how to get in touch with us!
Expanded Hours
To accommodate your busy schedules, we've extended our hours of operation. You can now enjoy Timber Hill Winery every day of the week! Our new hours are as follows:
Monday-Thursday: 11am-7pm
Friday and Saturday: 11am-9pm
Sunday: 11am-5pm
Spectacular Vineyard Views
Our new location offers breathtaking vineyard views that you won't want to miss. We've created plenty of outdoor seating options so you can relax and soak in the serene surroundings. Whether you're on our patio or inside our thoughtfully designed building with large windows, you'll be treated to stunning natural light and captivating vistas year-round.
Dog-Friendly Patio
We know that for many of you, your four-legged friends are part of the family, and we're excited to share that our outdoor patio area is still dog-friendly! Friendly, leashed dogs are welcome to join you as you sip your favorite Timber Hill wines and take in the beautiful scenery.
Expanded Menu
We've revamped our menu to include more delectable options. In addition to our beloved soft pretzels and beer cheese, we now offer freshly made-from-scratch pizzas with a variety of mouthwatering flavors. From fresh caprese to chicken alfredo and smoked sausage, there's a pizza for every palate. Stay tuned for our upcoming weekday specials to keep your taste buds excited. Our first weekday special, "Monday Bunday" has been a hit! Our full menu is available for lunch and dinner every day of the week. We will also continue to offer our Sunday Brunch menu, limited to 11am-2pm on Sundays only, with plans to expand those offerings as well.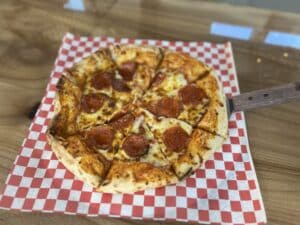 Tasting Room Delights
Our new tasting room is bigger and better, featuring a larger bar to accommodate wine tasting. With over 40 wines on our menu, we encourage you to explore and discover your favorites. Please note that our signature wine tasting is now exclusively offered at the bar, where you can select any five wines for a 1 oz. pour each. Take your time, ask our knowledgeable attendants for guidance, and savor the experience.
For those who prefer to sit at a table inside or on the patio, we also offer new wine flights. These consist of three 3 oz. pours of any wines on our menu, allowing you to enjoy your wine flight wherever you please.
While we take pride in our exceptional wines, we also offer a variety of non-alcoholic beverages for those who prefer a different kind of refreshment. Choose from a selection of soda, juice, and lemonade to quench your thirst. We've also crafted a unique selection of mocktails that deliver all the flavor without the alcohol. For those who prefer beer to wine, we've got you covered as well. We offer a small selection of beers, ensuring that all our visitors have options that suit their preferences.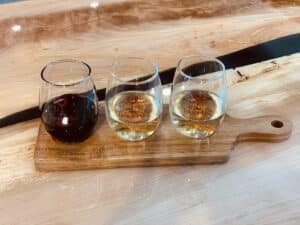 Retail Space and Merchandise
Exciting news! We've dedicated a separate retail space where you can purchase bottles of our exceptional wines to take home. Whether you're looking to enjoy your favorite Timber Hill wine at home or share it with friends and family, you'll find a variety of options to suit your taste.
But that's not all: we also offer Timber Hill merchandise for you to show your love for our winery. From logo glasses to apparel, you can take home a piece of Timber Hill Winery, carry the memories with you and represent your favorite winery everywhere you go.
Event Spaces
We're excited to introduce two incredible event spaces at our new location.
1. "The Loft" offers an upstairs seating area with an outdoor balcony, providing panoramic vineyard views. It's perfect for hosting gatherings of up to 50 guests, making it an ideal venue for bridal showers, birthday parties, and other special occasions.
2. "The Den" is a relaxed and inviting space for up to 30 people, featuring a lounge area and a large live-edge wood conference table. This space is perfect for productive meetings or intimate dining experiences. It also includes a private patio with a picturesque vineyard view.
If you're interested in renting one of these event spaces, please contact us at events@timberhillwinery.com, and our event coordinator will provide you with further details. In the future, our hope is for our customers to be able to utilize our website to book their special events directly. Watch for more information about that exciting feature!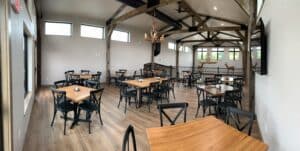 Stay in the Know
As we continue to evolve and enhance your Timber Hill Winery experience, we'll keep you updated through our social media accounts on Facebook and Instagram. You can also inquire with our friendly tasting room attendants about signing up for our weekly emails to stay informed about the latest news and offerings.
We can't wait to welcome you to the NEW Timber Hill Winery, where you'll enjoy the perfect blend of exceptional wines, stunning views, and unforgettable experiences. See you soon!