Get to Know Us at Timber Hill Winery
One of the Best Wineries in Wisconsin!
We have more than forty different varieties from our small family-run winery in southern Wisconsin. We create wines that leave an impression from start to finish, built from Wisconsin vineyards. Our winemaker enjoys coming up with varieties made for the appreciation, the joy, and the pure love of making and sharing delicious wine.
Our boutique winery located just off the Ice Age Trail in Rock County between Madison and Janesville, has a unique appeal in pairing people, wine, and experiences perfectly. We offer a surprising treat of affordable wines made with a variety of cold climate grapes. From the crushing of the grapes to the pour in your glass, we do it all with the joy of helping you appreciate the wine drinking moment you are in. 
Haaaave you met Amanda?! Amanda is one of the country's youngest female winemakers and winery owners. She prides herself in making wines with youthful energy and lasting impressions. After studying Microbiology at the University of Iowa and continuing her education in Wine Making and Winery Management from Kirkwood College, Amanda has been able to mix her interest in wine and unique education to capture the attention of – and contribute to – the culture of Wisconsin's wine drinking community. 
Fun Fact: She has traveled to every continent but Antarctica!
Favorite TH Wine: How can you possibly choose one?! Lately, Marquette Rose has been the go to!
From the crushing of the grapes, to the final bottling and serving of the wine, we have the perfect blend of family, friends, neighbors, wine enthusiasts, and Timber Hill Winery taste experience specialists to see the processes through. 
Learn more about the amazing team we have at Timber Hill Winery:
Julie is our Sales Representative. She helps in the tasting room with wine clubs, tastings, and basically everything! She also delivers wine to all of our wholesale locations. Fun Fact: Julie has 13 Grandchildren! Favorite TH Wine: Throwback Thursday
Kyle is our Assistant Winemaker at Timber Hill! He is a Herd Member turned employee! He loves traveling and seeing live music!
Favorite TH Wine: Black Diamond
Christiane
Christiane is our General Manager. She helps coordinate and schedule all of our fun events at the winery along with doing a million other things! Fun Fact: She is hilarious and hosts comedy shows at the winery! Favorite TH Wine: Antler Shed Red
Rianne
Rianne is a Tasting Room Attendant, and she also helps with a variety of marketing tasks for the winery! Rianne always has a positive attitude and a big smile on her face! Favorite TH wine: Chardonel
Laken
Laken is a Tasting Room Attendant at Timber Hill! Serving our wines and food is her specialty! When she's not working here, she works in HR!
Favorite TH Wine: Rainy Day Rose and Wine Wednesday
Ethan
Ethan is everyone's favorite co-worker. He helps us keep the tasting room stocked with wine, keeps the glasses squeaky clean, and gives us our weekend weather report!
Fun Fact: Ethan loves to go golfing!
Favorite TH wine: Margarita Monday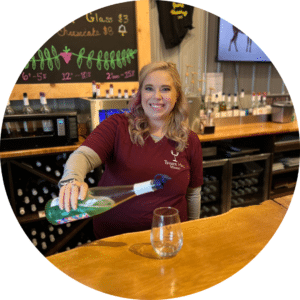 Kayla
Kayla works in our tasting room on weekends, and she takes incredible care of everyone who visits the winery!
Fun Fact: Kayla also works in a salon and is amazing at hair and makeup!
Favorite TH Wine: Mermaid Muscat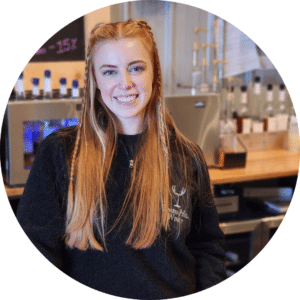 Taylor
Taylor is another amazing Tasting Room Attendant! She has been a long-time fan of Timber Hill and came to us after serving in the military! She is a hard worker and a dedicated member of our team.
Favorite TH Wine: Frontenac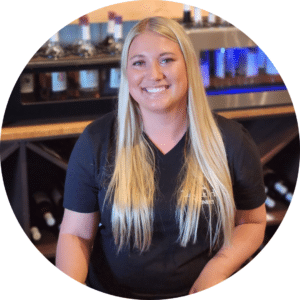 Shay
Jaimie
Jaimie joined our team this summer as a Tasting Room Attendant! During the school year, she is a full-time Art Teacher! Favorite TH Wine: Sassy Saturday Sangria Fun Fact: She reads over 100 books a year!
Jayme
Jayme rocks the tasting room on the weekends pouring tastings and drinks, helping with events, and so much more.
Fun Fact: She had her wedding reception at the winery!
Favorite TH Wine: Disco Daydream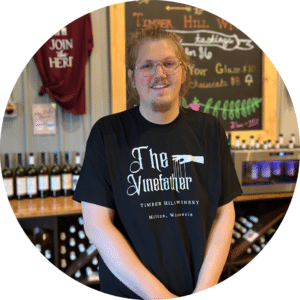 Ben
Ben is our Kitchen Manager! He prepares all of our scrumptious sandwiches and shareables here at the winery and makes sure that every meal you enjoy here is nothing short of delicious!
Tim
(5.16.53-3.17.22) Tim's official title was Dad, but he was also our handy man and so much more! He is our winemaker Amanda's Dad and played a major role in getting the winery to where it is today. Fun Fact: He built our beautiful bar from scratch. Favorite TH Wine: He is also the father of the Jalapeño wine!
Would you like to join our team?
  We are a growing small business! If you have a strong passion for wine, a positive attitude, and want to be a part of the team send your resume to info@timberhillwinery.com and we will let you know when we are hiring next!
 In the winemaking world, it's often heard that you can't make good wine without great grapes. That is why we use wines crafted from meticulously farmed cold climate vineyards.. The vineyards boast the best sites, so our wines can express the flavors of the places they are grown and represent each glass we pour. But more importantly, these grape growers cultivate the passion and character needed to make Timber Hill Wines at the center of a true Wisconsin made wine drinking experience.