Change is in the air for wine enthusiasts in Milton, Wisconsin, as Timber Hill Winery embarks on a new journey to offer an even more enchanting wine experience. The winery is moving from its current location at 1223 E. Storrs Lake Rd. to a stunning new address at 8220 N. John Paul Rd. in Milton. A winery relocation is no small feat, and this move marks a significant milestone for Timber Hill Winery, and they're inviting everyone to join in the celebration.
Ribbon Cutting Ceremony: A Date to Remember
Mark your calendars for Wednesday, September 6th, at 10:30 a.m., as Timber Hill Winery teams up with the Milton Area Chamber of Commerce for an unforgettable Ribbon Cutting Ceremony. This event promises to be a grand kickoff for the winery's new chapter. Not only will it highlight the winery's dedication to growth and innovation, but it will also serve as a moment to commemorate the hard work and passion that has gone into making Timber Hill Winery a beloved name in the region.
Join Us for the Grand Opening Weekend of the Timber Hill Winery Relocation
The excitement doesn't stop there!
The official Grand Opening of Timber Hill Winery's new location is set to take place on the weekend of September 23rd and 24th. It's a weekend that promises to be filled with joy, laughter, and, of course, exceptional wine. It's the perfect opportunity for visitors, old and new, to explore the brand new establishment and its breathtaking surroundings.
A New Home Amidst Nature's Splendor
Timber Hill Winery's new building is nestled amidst their own picturesque vineyard, offering visitors panoramic views that will take their breath away. The decision to move to this location was deliberate – it allows guests to immerse themselves in the beauty of the vineyard, enhancing the entire winery experience.
The new location boasts a larger tasting room, a spacious bar and dining area, and versatile event spaces designed to accommodate a wide range of occasions. Whether you're looking to celebrate a special event, host a corporate gathering, or simply enjoy a weekend outing, Timber Hill Winery has you covered.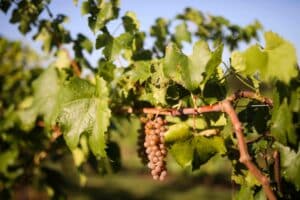 Outdoor Delights Await
One of the most exciting aspects of the winery relocation area is the abundance of outdoor space. The patio offers the perfect setting to enjoy delectable food and drinks while taking in the breathtaking surroundings.
The fusion of fine wine, delicious food, and the beauty of nature creates a sensory experience that's hard to match.
Elevating the Experience
Timber Hill Winery has always been known for its exceptional wines, and with the new location, they're taking the culinary experience to new heights.
While they'll continue to offer the signature Timber Hill wines that patrons know and love, the expanded location opens up opportunities to diversify the food and drink menus. This means even more delectable wine pairings to delight your taste buds.
Join Us at the New Timber Hill Winery!
The anticipation is building, and the entire Timber Hill Winery team can't wait to welcome you to their new home. The move to 8220 N. John Paul Rd. signifies growth, transformation, and a commitment to offering patrons an extraordinary experience that's bound to create lasting memories.
Whether you're a long-time fan of Timber Hill Winery or a curious newcomer, the Ribbon Cutting Ceremony, Grand Opening, and subsequent days offer a chance to revel in the magic of great wine, stunning views, and warm camaraderie.
Prepare to raise your glass to a new era for Timber Hill Winery—You can easily RSVP here for the winery relocation event. We can't wait for you to see the new location and let the celebrations begin!